How to report issues via the website
Please report any repair or maintenance issues to the Property Department via the online reporting system Fixflo Instructions about using the flixflo system can be found online.
Property team
The property team supports clergy and their families with accommodation appropriate to their needs and, as far as possible, relieves them of domestic concerns in order that they may concentrate upon their pastoral responsibilities.
James Millard, the Head of Property and Glebe also has overall responsibility for the diocese's residential (homes of the clergy) and Glebe.
Owain Wynne, Diocesan Surveyor Property Manager
Annabel Cook, is the Property Co-ordinator, she manages the vacant property processes and oversees the day-to-day management of the housing portfolio including planned maintenance and reactive repairs of around 250 clergy homes.
Alice Gifford, Property Assistant provides a front line response to housing enquiries in addition to admin support for the team.
Kelly Harrison, Property Admin Assistant
Glebe enquiries, Managing Agent: Greenslade Taylor Hunt
The property department is committed to delivering a high standard of service. Please contact the department if you have any questions or concerns regarding clergy housing matters.
Clergy Housing Guide
An A-Z guide for those living in clergy housing is now available to download. The guide is introduced by Bishop Ruth and Dr Axel Palmer, Chair of the diocese's Housing Committee.
The guide contains the information needed to clarify the responsibilities of living in a clergy home and to help clergy and their family enjoy their home.
Bishop Ruth says, "Living in a clergy house is quite different from being in rented accommodation. It may not be a home that the clergy and their family has chosen but it is a home and a base for ministry for a time, which will then be passed on to their successor."
The guide includes information on everything from alarms and alterations to washing lines and warranties. It also contains emergency contact information and the contact details of the property team.
The Clergy Housing Guide was updated in October 2022. The revised version can be downloaded below and it will be able to be viewed online on the Diocese of Bath and Wells Issuu page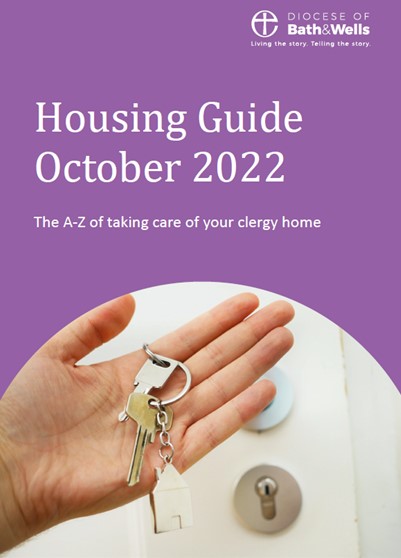 How to report issues
Please report any repair or maintenance items to the Property Department via online reporting system Fixflo
Who to contact
Find the contact details of the Property team or email the property helpdesk.
Downloads
Clergy Housing Guide - September 2023
Gateway factsheet on dealing with damp, condensation & mould (pdf)
Guide to dealing with damp, condensation & mould (word)
Lodging refugees in clergy homes guidance - March 2022